Login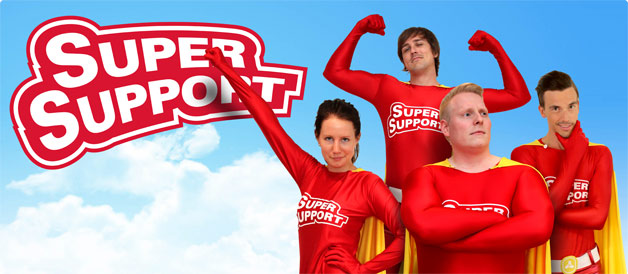 Loopia SuperSupport at your service
As our customer you can feel confident, Loopia SuperSupport is always at your service when you need help - at no extra cost. Kontakta Loopia SuperSupport »
Skilled heroes
The heroes at Loopia SuperSupport are passionate about our services and the web at large, therefore you can expect expert help when you need it.

Reach us everywhere
We will help you no matter how you want to contact us; by phone (+46 21-12 82 22), email, chat or social media such as Twitter and Facebook.

Personal assistance
Each separate case is just as important to the heroes of Loopia SuperSupport. We always take the time to help you out with your particular problem.

All year around
We're here to your rescue ALL year around. So do not hesitate to contact us whether you need help on Christmas Eve or Midsummer.

Free
SuperSupport are included in all our services, completely free of charge, whether you own only a single domain or have our largest hosting package.

Loopia <3 you!
We understand the importance of a successful presence on the Internet. Therefore, we love to help you succeed by sharing our knowledge and experience.
Money back guarantee! We apply a 30 day refund policy on web hosting. If you're not satisfied with our services, you will get your money back. Possible domains and extra services such as Office 365 are not covered by the warranty.
Order web hosting
"Your support team is super, always kind and helpful!"
– Terese Ann Garren, tereseann.se
"Great support! Fast, friendly and skilled."
– Stefan Olsson, golfpaket.se