Full control over your domain names with Loopia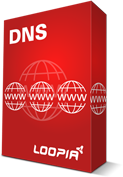 LoopiaDNS lets you handle and manage all your domain names in one place.
With Loopia customer zone it´s easy to configure and control your domain names, for example forwarding web traffic or e-mail. If you are a more experienced user, you have full control with our advanced DNS editor. If you happen to make a mistake it´s easy to jump back in time with our time machine.
If you have not yet decided what you want to do with your domain, you can use our free account LoopiaDomain to park your domain name.
LoopiaDomain
LoopiaDNS
Unlimited number of domain names
Park your domain with the opportunity to save money
Loopia SuperSupport
Set name servers
WWW forward
E-mail forward
Advanced settings
DNS backup
DynDNS
LoopiaAPI
Send newsletters
125 contacts
625 mail/month
Fee (SEK)

0 SEK

6,60

8,25

SEK/month
Create account
Order
Unlimited number of domains
There is no limit in the number of domain names or subdomains that you can add to your LoopiaDNS or LoopiaDomain account. You can purchase and administrate just as many domain names as you want.
WWW forward
By using WWW forward it is possible to connect a domain name to a website at your Internet Service Provider or your own private server. You can also use dynamic forwarding.
E-mail forward
Using e-mail forward, you can connect e-mail addresses for a domain to an e-mail service of your choice. For example, it is possible to forward e-mail addresses such as name@domain.com to name@myisp.com or *@domain.com (all incoming e-mail for domain.com) to name@myisp.com.
Advanced settings
Using LoopiaDNS, you can do advanced configurations such as setting your own CNAME, A and MX records. These can also be updated dynamically.
DNS backup
Restore previous DNS settings for your domain names directly from within Loopia Customer Zone. All history of your DNS settings are saved so you can easily restore from any point in time.
Dynamic DNS
Using our control panel and / or client software, you can update your DNS settings dynamically for a domain. This means you can use a server at home with a dynamic IP address.
Send newsletters
Increase your sales and tie your customers closer to you with newsletters and marketing via email. Get a Newsletter is a simple and effective tool for e-mail distribution that is included in all our hosting packages and LoopiaDNS. Read more here »
Parked domain = cash cow?
Om du beställer ett domännamn som du inte börjar använda direkt så parkeras det (så här ser en parkerad domän ut). Om någon beställer ett webbhotellskonto via din parkeratsida så fyller vi på din LoopiaPREPAID- pott med motsvarande 25 procent av den fakturerade kvartals- eller årsavgiften. Detta dras sedan av från eventuella framtida fakturor. På så vis kan du alltså spara pengar på att parkera dina domännamn hos oss. När det sedan är dags att använda domännamnet är det bara att aktivera det.
Protect your domains
Our extra service Loopia Domain Protection protects you and your domain name from spammers and domain pirates by masking your personal information in the Whois database. Read more and protect your domains »